NOW Honors Guts and Glory of Shirley Chisholm


National Organization for Women

January 3, 2005
Statement of NOW President Kim Gandy

The National Organization for Women is saddened by the loss of a true feminist trailblazer and a founder of New York NOW, the organization's first chapter. Shirley Chisholm spoke fearlessly for women and people of color throughout her 80 years and it is an honor to recall a few of her accomplishments.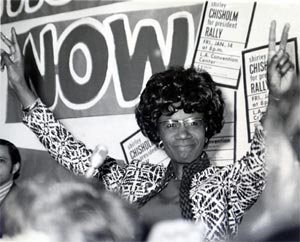 Congressmember Shirley Chisholm at a NOW-sponsored rally on the presidential campaign trail in 1972. Photo by Rose Greene.
Chisholm was the first African American woman elected to Congress; she took her seat in the U.S. House in 1969 representing New York's Bedford-Stuyvesant section of Brooklyn and served until her retirement in 1983. She was a founding member of the Congressional Black Caucus, a fierce advocate for women's rights and democracy, and a staunch opponent of the Vietnam War.
When Chisholm became the first African American person to seek a major political party's nomination for U.S. president in 1972, NOW made our first-ever endorsement of a presidential candidate.
Chisholm began her career as a teacher and became a well-known expert on early education and child welfare. She brought that passion with her to Congress; in 1970, Chisolm co-authored a child care bill that was more forward-thinking than any such legislation before or since. A major priority of the fledgling National Organization for Women, the bill was ushered through the House by Chisolm and her legendary colleague Bella Abzug, while ally Walter Mondale led Senate passage, only to have President Richard Nixon veto it — calling it "the Sovietization of American children."
Chisholm was a compelling speaker who always got right to the point. In her book, The Good Fight, Chisholm said: "I ran for the presidency, despite hopeless odds, to demonstrate the sheer will and refusal to accept the status quo."
Chisolm took on the hallowed halls of Congress in Unbought and Unbossed, saying: "Our representative democracy is not working because the Congress that is supposed to represent the voters does not respond to their needs. I believe the chief reason for this is that it is ruled by a small group of old men."
In 1982 Chisholm told the Associated Press: "I've always met more discrimination being a woman than being black. When I ran for the Congress, when I ran for president, I met more discrimination as a woman than for being black. Men are men."
As women continue to struggle toward equality, we are inspired to have Shirley Chisholm as an example of feminist guts and glory.

Note: The documentary "Chisholm '72 - Unbought & Unbossed" will air on PBS stations nationwide, as part of the P.O.V. series, on Feb. 7. Check your local listings for times, or visit the P.O.V. web site. The documentary will be released on home video/DVD on March 1.
---

Copyright 1995-2006, All rights reserved. Permission granted for non-commercial use. National Organization for Women
(This was printed from http://www.now.org/press/01-05/01-03.html)